French Country Cottage 1602r-132HF Specifications:
Total Living Area: 1602
1st Flr Living Area: 1602
2nd Flr Living Area: n/a.
Bedrooms: 3
Bathrooms 2

Other Rooms: Dining.
House Width: 51 FT.
House Depth: 56 FT.
Garage-Carport: Gar – 2 spaces.
Parking Entry: Front Left.

A Great Traditional French Country Cottage Style Home.
This French Country Cottage is perfect for narrow lots.  The floor plan has been meticulously designed for absolutely no wasted space.  Having 3 bedrooms, 2 full baths, a dining room & separate adult area, this plan can surely meet every growing family's needs.  The ceiling heights vary from 8 FT to 10 FT depending on the owner's preferences.  See our About Plans section for information on the construction process and additional information about our plans.  Your builder can accommodate most varying ceiling heights.
FLOOR PLAN * 1602r-132HF.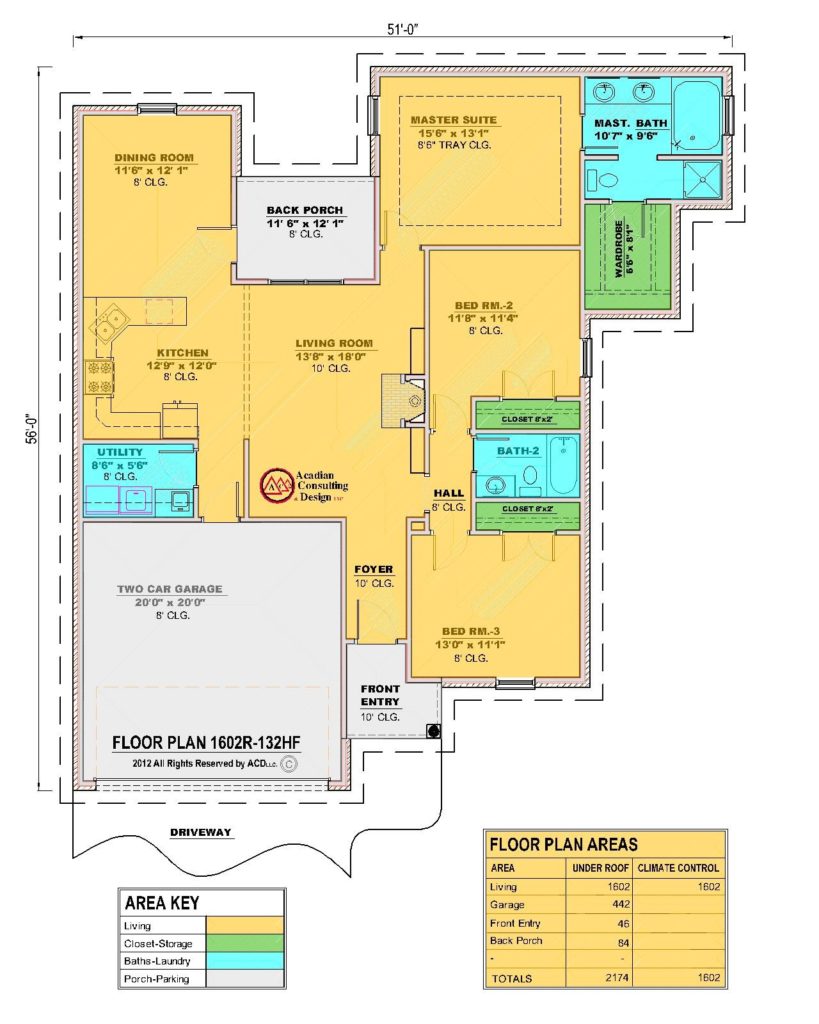 PURCHASE PROCESS, We use the PayPal Gateway. Simply add your product(s) to cart, click PayPal button in cart. Choose method of payment. After purchase is complete you will receive an email from "SALES DEPT" with a download link & the usual PayPal purchase email in within a few minutes. You are allowed 3 downloads within 24 hours.
Buy & Download 1602r Digital PDF House Plan Set Sheets 1-7: $525.00
Buy & Download 1602r Digital PDF House Plan Set Sheets 1-8: $675.00
Buy & Download 1602r CAD DWG File (AutoCad Architecture 2011) & Digital PDF House Plan Set Sheets 1-8: $1125.00